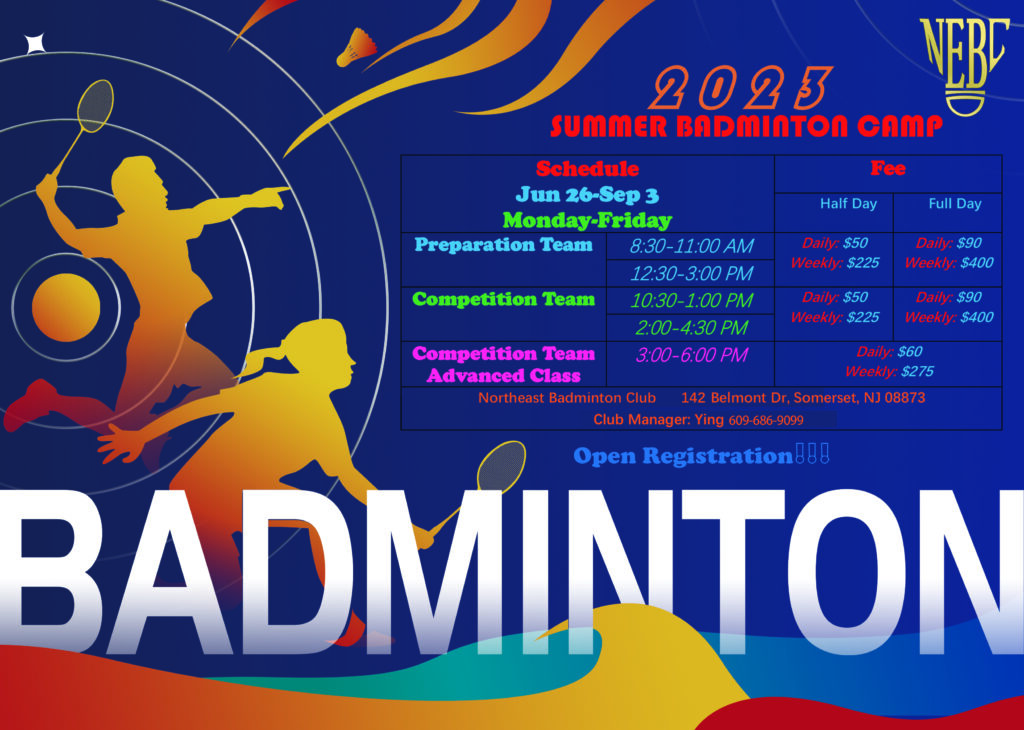 Top Facility. International Coaching Team. Come Join Us
142 Belmont Dr, Somerset, NJ 08873
Weekdays
Monday – 8:00AM to 10:00 PM
Tuesday – 8:00AM to 10:00 PM
Wednesday – 8:00AM to 10:00 PM
Thursday – 8:00AM to 10:00 PM
Friday – 8:00AM to 10:00 PM

WHEN SUMMER BADMINTON CAMP IS INACTIVE
Saturday – 8:00AM to 10:00 PM
Sunday – 8:00AM to 10:00 PM
*Saturday Sunday 11:00 AM to 6:00 PM is busy hour. the courts usually book for junior training,

Please call us before you come.

Holidays
Closed on Dec-24, Dec-25, Jan-1
Half day (till 12 noon), Dec 31
*Please call for unpublished holiday or snow days.
Training Policy
If your child is sick, keep them home!
We can always reschedule and accommodate as long as you inform as ahead of time.
Parents who are dropping off and picking up their kids have to be on time and if parents have to come in. They need to wear Masks.
Management can also REQUEST parents/Guardians to leave and just to drop off and pick up if the Gym occupancy is deemed full.
If you book a private lesson or Group class, please arrive on time, can enter the venue 5 minutes in advance to prepare. When your class ends please try to leave Gym within 15 minutes.
Juniors also advised to wear Masks and can take them off while training.
Players should keep safe distance among each other as well as their belongings including gym bag and shoes
For the safety of everyone, NEBC would like to announce the rules below for the new training year and need parents and kids's cooperation to strictly follow the rules.
Please do not join any training if the kid is joining training (private or group) at other clubs.
The kid joining the training at NEBC can play at other clubs only when there is no conflict with his/her NEBC's training schedule.
CLUB WALK-THROUGH